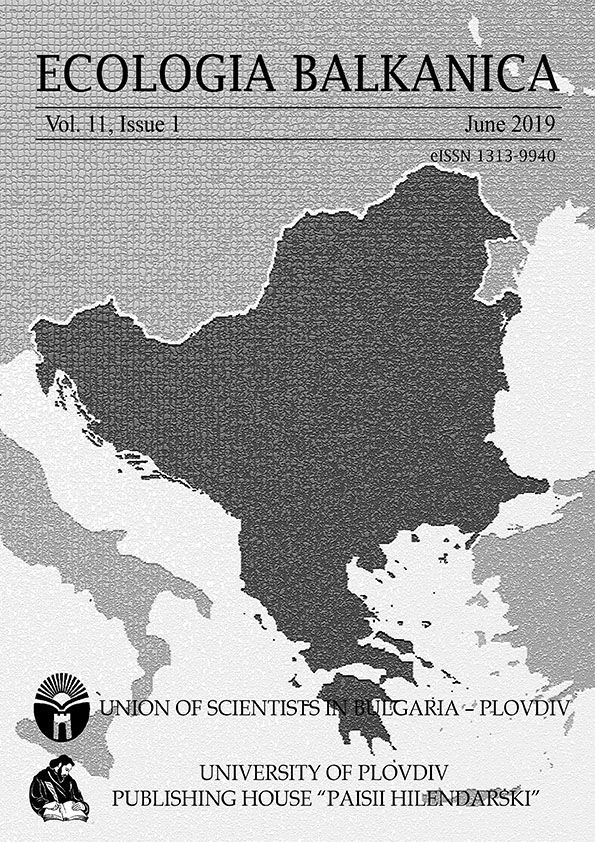 ECOLOGIA BALKANICA – Volume 11, Issue 1 / June 2019
Ecologia Balkanica – 2019, vol. 11, issue 1 – Whole issue

First pages

Research Articles
Periodic Acid - Schiff (PAS) Reaction in Fish Liver Exposed to
Fungicide Contamination: A Possible Histochemical Biomarker
Vesela S. Yancheva, Iliana G. Velcheva, Elenka S. Georgieva, Stela G. Stoyanova, pp. 1-10
Article № eb.19108 [Abstract] [Full text - PDF]

Hydromorphological Pressure in Mountain and Semi-mountain Rivers: Response of Macrophyte Communities
Gana M. Gecheva, Yordanka G. Hristeva, pp. 11-16
Article № eb.18118 [Abstract] [Full text - PDF]

A Checklist of the Herpetofauna in the Bulgarian Part of Hadzhidimovo Gorge (South-Western Bulgaria)
George N. Manolev, Lilia V. Philipova, Alexander N. Pulev, Lidia G. Sakelarieva, pp. 17-26
Article № eb.18136 [Abstract] [Full text - PDF]

Current State of Collections of Genus Asparagus in Bulgarian National's Herbaria
Plamen S. Stoyanov, Tzvetanka G. Raycheva,

Gergana E. Karaycheva, Tsvetelina R. Mladenova
, pp. 27-33
Article № eb.18111 [Abstract] [Full text - PDF]

Growth Characteristics of Robinia pseudoacacia (Linnaeus, 1753) Plantations After Applying of Agroforestry
Vania G. Kachova, Angel A. Ferezliev, Yonko D. Dodev, pp. 35-50
Article № eb.19104 [Abstract] [Full text - PDF]

Density
of Grey Partridge (Perdix perdix Linnaeus, 1785) Population in Sakar Mountain (SE Bulgaria) and the Effect of Weather and Habitats
Gradimir V. Gruychev, Evlogi E. Angelov, pp. 51-62
Article № eb.19106 [Abstract] [Full text - PDF]

Comparative Study of the Height and Volume Structure of Douglas-Fir Forest Plantations in North-West Rhodopes, Bulgaria
Angel A. Ferezliev, Krum Sp.Karov, Nikolay G. Zafirov,

Vania G. Kachova, Yonko D. Dodev
, pp. 63-74
Article № eb.19107 [Abstract] [Full text - PDF]

Statistical Assessment of Alluvial-Meadow Soils Located in Busmantsi Sand and Gravel Mining Field, Sofia, Bulgaria
Vladimir Ilinkin, pp. 75-84
Article № eb.19113 [Abstract] [Full text - PDF]

Air Pollution Biomonitoring in Urban Ecosystems with Aesculus hippocastanum
Poli Chonova, Gana M. Gecheva, Nikolina P. Gribacheva, pp. 85-92
Article № eb.18119 [Abstract] [Full text - PDF]

Assessment of Ecological Potential and the Benthic Macroinvertebrates of Eight Reservoirs in Bulgaria
Monika А.
Subeva
, Lyubomir A. Kenderov, Vesela V. Evtimova, Dimitriy A. Dashinov, Teodora М.
Teofilova
, Desislava S. Stoianova, Galia N. Georgieva, Yanka N. Vidinova, Yordan I. Uzunov
, pp. 93-107
Article № eb.18126 [Abstract] [Full text - PDF]

Pollination Ecology of Rhynchosia minima (L.) DC. (Fabaceae) in the Southern Eastern Ghats, Andhra Pradesh, India
A.J. Solomon Raju, K. Venkata Ramana, pp. 108-126
Article № eb.18128 [Abstract] [Full text - PDF]

Influence of Vegetation on the Thermal Balance of Different Soil Types Used for Recultivation
Plamen B. Savov, Maya L. Vatzkitcheva, Kalinka Hr. Velichkova, Nikolai I. Kolev, Petia G. Genova, Katerina T. Nikolova, Svetlana G. Bratkova
, pp. 127-136
Article № eb.19101 [Abstract] [Full text - PDF]

Regime
of Soil Temperature During the Sowing Period of Spring Crops in the Some Stations of South-Eastern Bulgaria
Nadezhda I. Shopova, Veska A. Georgieva, Valentin S. Kazandjiev, Petya I. Malasheva,
pp. 137-143
Article № eb.19103 [Abstract] [Full text - PDF]

Floristic and Habitat Diversity of the Trigrad Gorge Protected Area (Central Rhodopes Mts.), Bulgaria
Dimitar Dimitrov, Vassil Vutov, pp. 145-154
Article № eb.19105 [Abstract] [Full text - PDF]

Methods of Calculating the Emissions of Greenhouse Gases from Manure from Sheep and Goat's Breeding in the Republic of Bulgaria
Dimo S. Penkov, Atanas D. Arnaudov,

Vasko T. Gerzilov, Atanas K. Bochukov
, pp. 155-159
Article № eb.19109 [Abstract] [Full text - PDF]

Macrophyte-based Assessment of Ecological Status of Aldomirovsko and Dragomansko Marshes, Bulgaria
Kiril V. Vassilev, Gana M.
Gecheva
, Teodora A. Ilieva, pp. 161-166
Article № eb.19110 [Abstract] [Full text - PDF]

A Case Study of Allelopathic Effect of Parsley, Dill, Onion
and
Carrots on the Germination and Initial Development of Tomato Plants
Ekaterina Valcheva, Vladislav Popov, Plamen Marinov-Serafimov,

Irena Golubinova, Bogdan Nikolov, Iliana Velcheva, Slaveya Petrova,
pp. 167-177
Article № eb.19112 [Abstract] [Full text - PDF]

Influence of Exogenous Factors on the Maturation Levels of Spermatozoa Chromatin in Sub/Infertile Men Treated with Nutritional Supplement PAPA®
Radoslava Stoyanova, Stoil Tomov, Elenka Georgieva, Pepa Atanassova, Ivan Dechev, Vesela Yancheva, Slaveya Petrova, Stela Stoyanova
, pp. 179-189
Article № eb.19114 [Abstract] [Full text - PDF]

Distribution, Characteristics and Ecological Role of Protective Forest Belts in Silistra Municipality, Northeastern Bulgaria
Kiril V. Vassilev, Assen I. Assenov, Nikolay I. Velev,

Borislav G. Grigorov, Bilyana B. Borissova
, pp. 191-204
Article № eb.19116 [Abstract] [Full text - PDF]

Ballast Water Treatment Systems on Board of Merchant Vessels and Crew Training
Blagovest C. Belev, Sevdalin I. Daskalov, pp. 205-215
Article № eb.19119 [Abstract] [Full text - PDF]

The Effect of Grazing on Old Oak Forests from Eastern Rhodopes Mountains, Bulgaria
Georgi Hinkov, Vania Kachova, Ivaylo Velichkov, Lucian Dinca
, pp. 215-223
Article № eb.19120 [Abstract] [Full text - PDF]

Implementation a Scheme for Individual Tracking with Colour PVC Ring in the Course of the Lesser Kestrel (Falco
naumanni
) Recovery as Breeder in Bulgaria
Stilyana Yaneva, Gradimir

Gradev

, Simeon Marin, Tatyana Bileva

,
pp. 225-233
Article № eb.18131 [Abstract] [Full text - PDF]

Short notes
First confirmed breeding of Hazel Grouse (Bonasa
bonasia
Linnaeus, 1758) in Plana Mountain, CW Bulgaria
Evlogi E. Angelov, Gradimir V. Gruychev, pp. 235-237
Article № eb.19201 [Abstract] [Full text - PDF]

The Second Record of a Rare Lizard Species, Darevskia
praticola
(Eversmann, 1834), in the Jiu Gorge National Park, Romania
Felicia-Nicoleta Sucea, pp. 239-241
Article № eb.19205 [Abstract] [Full text - PDF]

Synopses
Legal Regime of the Actions of the Control Authorities in Relation to Environmental Protection of the Population of the Health Act of the Republic of Bulgaria
Antonia G. Ilieva, pp. 243-249
Article № eb.19301 [Abstract] [Full text - PDF]

Reviewers
List of reviewers, who participated in the peer-review process of the current issue