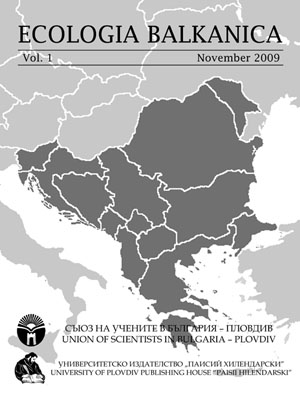 [A Study on the Processes of Distribution, Accumulation and Transfer of Copper (Cu) in the Organisms of Fishes]
In Bulgarian, English Summary
Iliana G. Velcheva, Bogdan N. Nikolov
University of Plovdiv "Paisii Hilendarski", Faculty of Biology, Department of Ecology and Environmental Conservation,
24 Tzar Assen Str., 4000-Plovdiv, BULGARIA, E-mail: anivel@uni-plovdiv.bg
Abstract. By applying mathematical approaches we studied the distribution of copper in organs and tissues of Alburnus alburnus and Perca fluviatilis from "Topolnitsa" Dam Lake. A deposit of the metal in the kidneys and liver was recorded. We found out that the surveyed species are macroconcentrators of cadmium and zinc and there is a process biomagnification of heavy metals in the trophic levels.
Key words: Pices, Alburnus alburnus, Perca fluviatilis, heavy metals, transfer.
Ecologia Balkanica, 2009, vol. 1, pp. 15-20.
Article № EB-01-2009_RA_04, ICID: 905606, [Full text - PDF]