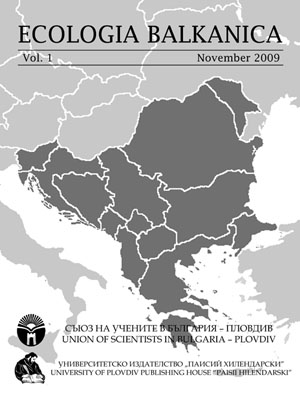 Diet of the Golden Eagle (Aquila chrysaetos) (Aves: Accipitridae) in Sarnena Sredna Gora Mountains (Bulgaria)
Dilian G. Georgiev
University of Plovdiv, Faculty of Biology, Department of Ecology and Environmental Conservation, 24, Tzar Assen Str., 4000 Plovdiv, BULGARIA
E-mail: diliangeorgiev@abv.bg
Abstract.
The material of pellets and food remains (as bone and shell fragments, hair, and feathers) was collected after the breeding season from below and within one nest of Golden Eagles on rocks at Sarnena Sredna Gora Mts., north-east of Stara Zagora town. Our study was carried out during a three year period (1999, 2000 and 2002). Total 65 specimens from minimum 10 species of preys were identified among the food remains from which the reptiles dominated. Mostly preyed by the Golden Eagles couple were the tortoises (T
estudo sp.
) with 55.4% from all registered individual preys. The most common prey from mammals was the hedgehog (
Erinaceus roumanicus
) with 13.8%. Interesting fact was and the relatively high percentage of the cats with 7.7% (possibly most of them domestic ones)
.
Key words:
Golden Eagle, food spectrum, nesting season
.
Ecologia Balkanica, 2009, vol. 1, pp. 95-98.
Article № EB-01-2009_SN_02, ICID: 905627, [Full text - PDF]