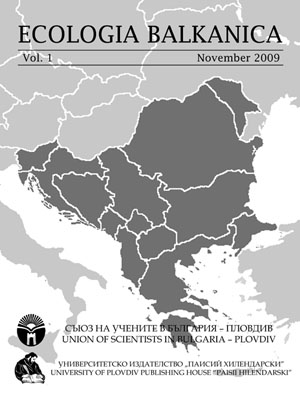 On the Fruit Consumption of Eurasian Badger (Meles meles) (Mammalia: Mustelidae) during the Autumn Season in Sredna Gora Mountains (Bulgaria)
Dilian G. Georgiev
University of Plovdiv, Faculty of Biology, Department of Ecology and Environmental Conservation, 24, Tzar Assen Str., 4000 Plovdiv, BULGARIA
E-mail: diliangeorgiev@abv.bg
Abstract.
This case study was carried out at one badgers family territory by a single collection (11.11.2002, north of Stara Zagora City, near Tabashka River) of faeces from the animal latrine sites. Total of 1361 individual food items were identified in Eurasian badger (
Meles meles
) faeces from which the fruits of the Cornel-tree (
Cornus mas
) strongly dominated (n=1332, 96.5% from all items, 98.2% from all fruits)
.
Key words:
badger, diet, fruit consumption
.
Ecologia Balkanica, 2009, vol. 1, pp. 99-101.
Article № EB-01-2009_SN_03, ICID: 905629, [Full text - PDF]