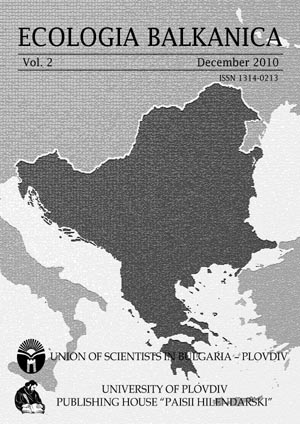 Influence of Zinc on Gill Morphology of Gibelio Carp (Carassius gibelio)
Iliana G. Velcheva1, Atanas D. Arnaudov2, Elenka S. Georgieva3
University of Plovdiv "Paisii Hilendarski", Faculty of Biology,
1 - Department of Ecology and Environmental Conservation,
2 - Department of Human Anatomy and Physiology,
3 - Department of Developmental Biology,
24 Tsar Assen Str., BG-4000 Plovdiv, BULGARIA
E-mail: anivel@uni-plovdiv.bg
Abstract.
The influence of increasing concentrations of Zinc sulfate (Zn SO4x7H20) on the hystostructure of Gibelio carp gills was investigated. Changes were observed even in the lowest concentration (0.1 mg.l-1) – degenerating, cirulation and hyperplastic processes. With the increasing of the Zinc concentration, the hyperplasic processes were predominant over the degenerating and cirulation ones
.
Key words
:
histopathology, zinc, gills, fish, Gibelio carp
.
Ecologia Balkanica, 2010, vol. 2, pp. 19-23
Article № EB-02-2010_RA_04, ICID: 924263, [Full text - PDF]