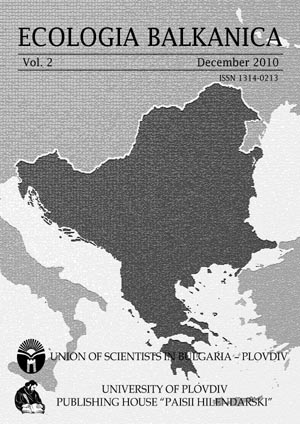 Habitat selection of the Shelduck Tadorna tadorna (Aves: Anseriformes) in Evros Delta, Greece
Apostolos Ch. Tsiompanoudis1, Vassilios J. Kontsiotis1, Dimitrios E. Bakaloudis2
1 - Aristotle University of Thessaloniki, School of Forestry and Natural Environment, Laboratory of Wildlife, 541 24 Thessaloniki, Macedonia, GREECE
E-mail: atsiompa@for.auth.gr
2 - Technological Educational Institute of Kavala, Department of Forestry & Management of Natural Environment, Laboratory of Wildlife Ecology & Management, 1st km DramaMikrohori, 661 00 Drama, Macedonia, GREECE
Abstract.
Evros Delta is the most important wetland habitat in Greece. Thousands of aquatic birds use to breed and winter in the area but the reduction of the habitat is still continuing. We used road transects and Shelduck
Tadorna tadorna
habitat selection was recorded. Based on Ivlev's electivity index, Shelducks have a preference for places with sweet and salted/brackish waters. Food availability and abundance are the key factors that influence the Shelduck movements in Evros Delta. Actions are required to maintain these habitats in order to protect the Shelduck population in the area.
.
Key words: aquatic birds, habitat, Shelduck, Evros Delta, Greece.
Ecologia Balkanica, 2010, vol. 2, pp. 57-60
Article № EB-02-2010_SN_01, ICID: 924266, [Full text - PDF]